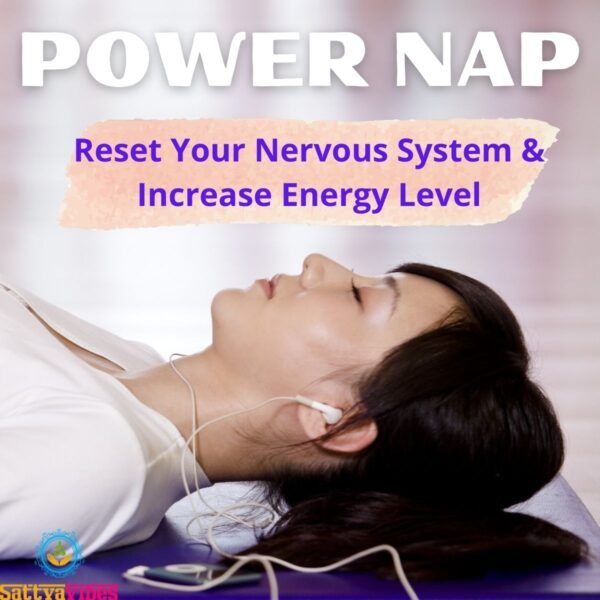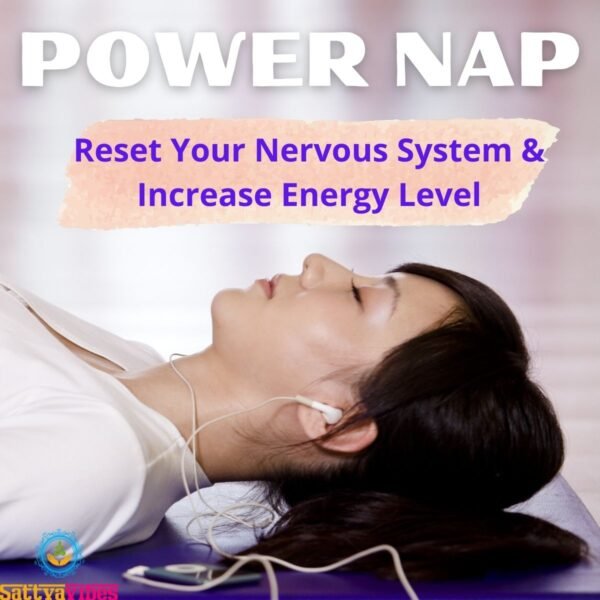 Power Nap
Preview Track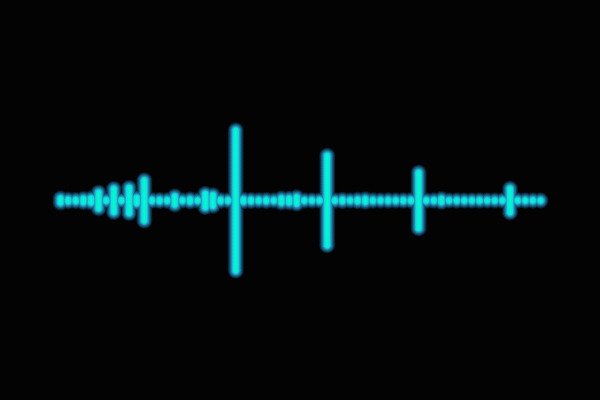 ₹ 975 ₹ 1,500.00

(35% Off)
Length: Contains 10, 30 & 60 minutes versions
Sound Waves: Theta Waves
Benefit:
Enhance Cognitive Function
Increase Performance and Productivity
Improve Long-term Memory
Regulate Mood
A power nap, often known as a cat nap, is a brief slumber that occurs before deep sleep. A power nap is designed to re-energize the sleeper quickly.
Power naps are a natural approach to regain your energy and focus if you're tired or can't concentrate. They've been shown to be more effective than a cup of coffee or tea, and the effects last for several hours.
It is quite different from Insomnia, which is characterized by difficulty sleeping or staying asleep. Stress and mental health conditions, sleep and lifestyle behaviors, and certain drugs are all possible causes of this sleep disorder. Insomnia can be alleviated by creating relaxing practices before night, such as incorporating binaural beats into their sleep pattern.
Listening to binaural beats has been found to help you easily drift off to sleep.
Binaural beats are audio phenomena that occur when your brain hears different tones in each ear. According to a study, listening to binaural beats can help you fall asleep faster and feel less anxious.
Power Nap sends you into a therapeutic nap and then pulls you back to full waking consciousness using a blend of Delta and Alpha sound waves weaved into soothing ambient music, so you may go about your day feeling invigorated, focused, and thoroughly refreshed.
Use this complimentary track to unwind and refresh before you take a nap. Order now!
USE BINAURAL BEATS TO TAKE A NAP AND CHANGE YOUR LIFE
Mental performance naturally deteriorates during the day and continues to deteriorate into the evening.
The evidence shows that taking a power nap can help you stay in a good mood, be more creative, and be more productive throughout the day.
It's even more effective than caffeine.
You'll wake up rejuvenated if you nap for 10 minutes and wake up before you've entered the deep stages of sleep. Napping has a plethora of mental and physical health advantages.
Napping has shown to be a sensible investment of time for some of the world's smartest people and businesses.
Power Nap is meant to re-energize and rejuvenate your mind and body so you can get back to work in the second half of the day.
This relaxing meditation will transport you just into the Delta state, but not too far because you don't want to fall asleep — this is a power nap, after all!
Slowly, you'll drift off to sleep's early stages, where you'll have a lovely 30-minute snooze and replenish your batteries.
As you near the end of the music, we'll begin to gently retrain your brain into the Alpha stage of awareness, bringing you back to full consciousness.
SIDE EFFECTS OF USING BINAURAL BEATS
There are no significant negative consequences to listening to binaural beats.
Although a few people have experienced some discomfort after listening to them, experts recommend songs with additional noises, such as white noise, to avoid this discomfort.
Long-term exposure to sound levels of 85 dB or higher14 can also cause hearing damage. Motorcycles, concerts, athletic events, and listening to music at maximum blast through headphones are all examples of everyday sounds at that loudness or higher. Make sure the volume on your binaural beats isn't too loud.
BENEFITS
Here are just a few of the numerous documented advantages of taking power naps on a regular basis:
Extra stamina and energy
Reduced stress as a result of lower cortisol levels
Serotonin levels rise, which improves mood and lowers the risk of depression.
Better learning and memory
Greater alertness and productivity as a result of peak performance
More creativity, increased patience, and improved decision-making skills
Heart disease, stroke, and high blood pressure are all reduced
Better sex life.
Diabetes and obesity risks are reduced.
reduced use of alcohol and other substances, such as coffee
Accidents are less likely if you have higher motor skills and coordination.
Less health issues as a result of chronic insomnia
Power nap track doesn't promise to make you a genius, but it will leave you mentally clear, rejuvenated, allowing you to maintain a positive mood, energy, attention, and productivity throughout the day.
Order today to start your journey into rejuvenation.
A minimum of 10 minutes is recommended per listening session. For busy people, You can purchase the 10 minutes versions. Regular listening and meditation: 30 minutes is recommended. For sleeping or background purposes: Use 60 minutes.

You can also play music offline by downloading it or listening to it online in our playlist.

The program is adaptable, and you can listen to any of the variants at any time of day.
You can listen whenever you're feeling overwhelmed by negative or unpleasant ideas.

You have the option of listening with or without headphones.
Although listening with headphones is recommended.

Please keep in mind that the binaural beats will only work with headphones.
As a result, you will only benefit from peaceful music if you listen without headphones.

When listening without headphones, make sure you're within a meter and a half of the speakers.
FAQs
Product FAQ
We recommend a start listening of 2 sessions per day like one in the morning and in the night or afternoon.
first, choose your desired goal and make daily routing for listening to appropriate music based on your need.
you can select like as select exercise stimulus in the morning routine, power nap in the noon, and relaxation magnifier in the evening. that's the way you can make a schedule.
once you get the desired result, you can change the track depending on the next desired goal.
well, it is a good idea to stick one music track up to 2 to 3 weeks still find gradual change in your behavior patterns or thinking.
we provide our music track in .mp3 format, at 320kbps. This is very high-quality in.mp3 format.it is more effective brainwave entrainment and you will get a better listening experience.
yes, definitely you can listen to a preview having 1 minute of all meditation music tracks in individual music contains in the store.
our music track contains calming meditative music. music that not only gives you a pleasurable experience but technically it altered your state of consciousness and brain waves. you can listen to our sample music from the store to the product page and you will find 1- minute music, just check and play at top of the page.
we have a wide variety of different meditation bundles but instead, you can make your bundle too.
yes, you can make your own bundle by adding 9 music tracks related to your choice and a discount will be applied.
yes, binaural beats music is used by millions of people over the world. there have been ample studies observed using binaural beats technology and brainwave entrainment and no report found as side effects. but we advise you to consult a physician before using our music track if you have any chronic disease.
Of Course, Click here to visit THE SCIENCE BEHIND page for details part of brainwave entrainment and its science.
please click here, STEP TO DOWNLOAD, to read about downloading your meditation music on your android/iPhone/laptop/computer/MacBook/tablet or any device.
Yes, you can listen to your desired meditation track online on the website on our playlist. you will get details on My account after purchasing our meditation track.